AI comes to the rescue
To prove the feasibility of the machine learning approach, Mireo has developed an RDR estimation system using AI models for several production EV cars. We have leveraged Mireo SpaceTime, a connected car data platform for remote vehicles sensors' data acquisition and processing, to build and test RDR estimation models that turned out to be highly accurate and personalized.
What have we learned throughout the process? Well, for once, we don't need that much driving data to make a good prediction. Some 5,000 km is enough to develop a baseline (non-personalized) battery consumption model. Of course, the data has to cover driving in various circumstances. For example, it should cover different outside temperatures, road types, driving in the city, mountains, highways, longer and shorter trips, various battery charge (SoC) levels, etc.
As for the prediction accuracy, on 32 km long trips, we achieved a relative error of only 7%. It means that if the actual battery consumption were 10% of battery, we would typically make an error of 0.7%. The error is even smaller on the longer trips!
One of the EV models we tested was a Tesla Model 3, which uses a similar logic for determining the RDR. When a user enters the destination, the vehicle estimates the remaining battery percentage at the end of the trip. Our model's predictions were, in almost all the cases, very close to Tesla's.
But we actually took a step further there. Having to enter a destination to get a basic idea about your RDR may be cumbersome at times. This is why we calculate the maximum driving range in all directions and draw it on a map in the form of a reachable area. We also call this feature a spider map. One look at it reveals a whole lot more than just a number that is more often than not wildly inaccurate.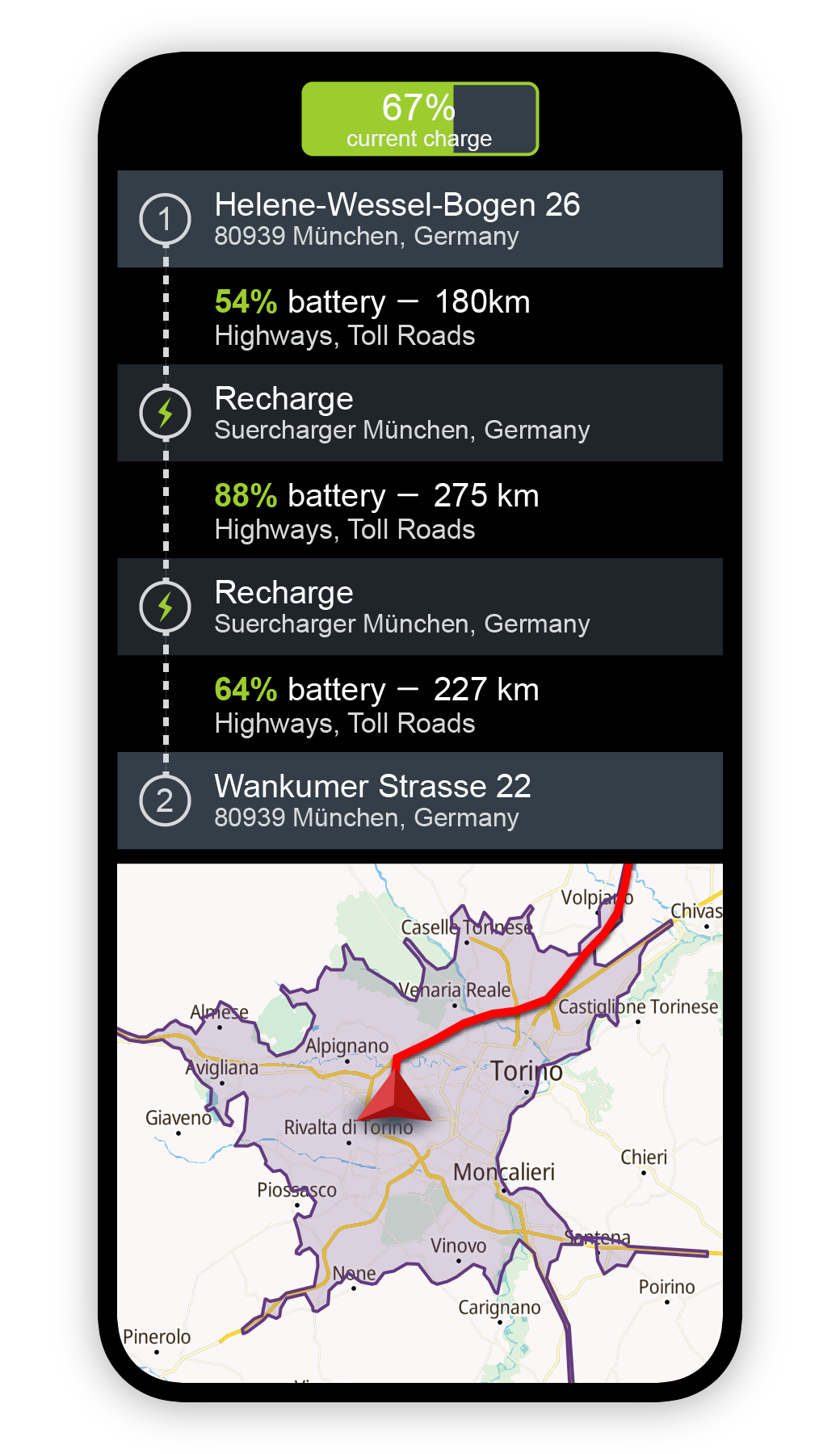 Genius Maps integration of EV battery consumption model – charging points and reachable area
Moreover, suppose your desired destination is outside your existing range. In that case, the navigation automatically routes the vehicle onto the most convenient charging stations along your route, so you can safely make it to your destination.
If all that sounds interesting, check out the Interactive Demo of Mireo's SpaceTime Connected Car Data Platform. The interactive demo presents the real-time processing and analyzing terabytes of data received from 200,000 vehicles. SpaceTime Connected Car Data platform offers all the necessary components to store and analyze real-time and historical data from millions of connected vehicles using an absurdly fast and completely customizable set of advanced analyses accessed by a standard SQL interface.
If you wish to hear more about how we can help you with EV battery consumption estimation, contact us.