Did we find anything interesting?
Let's start from the beginning.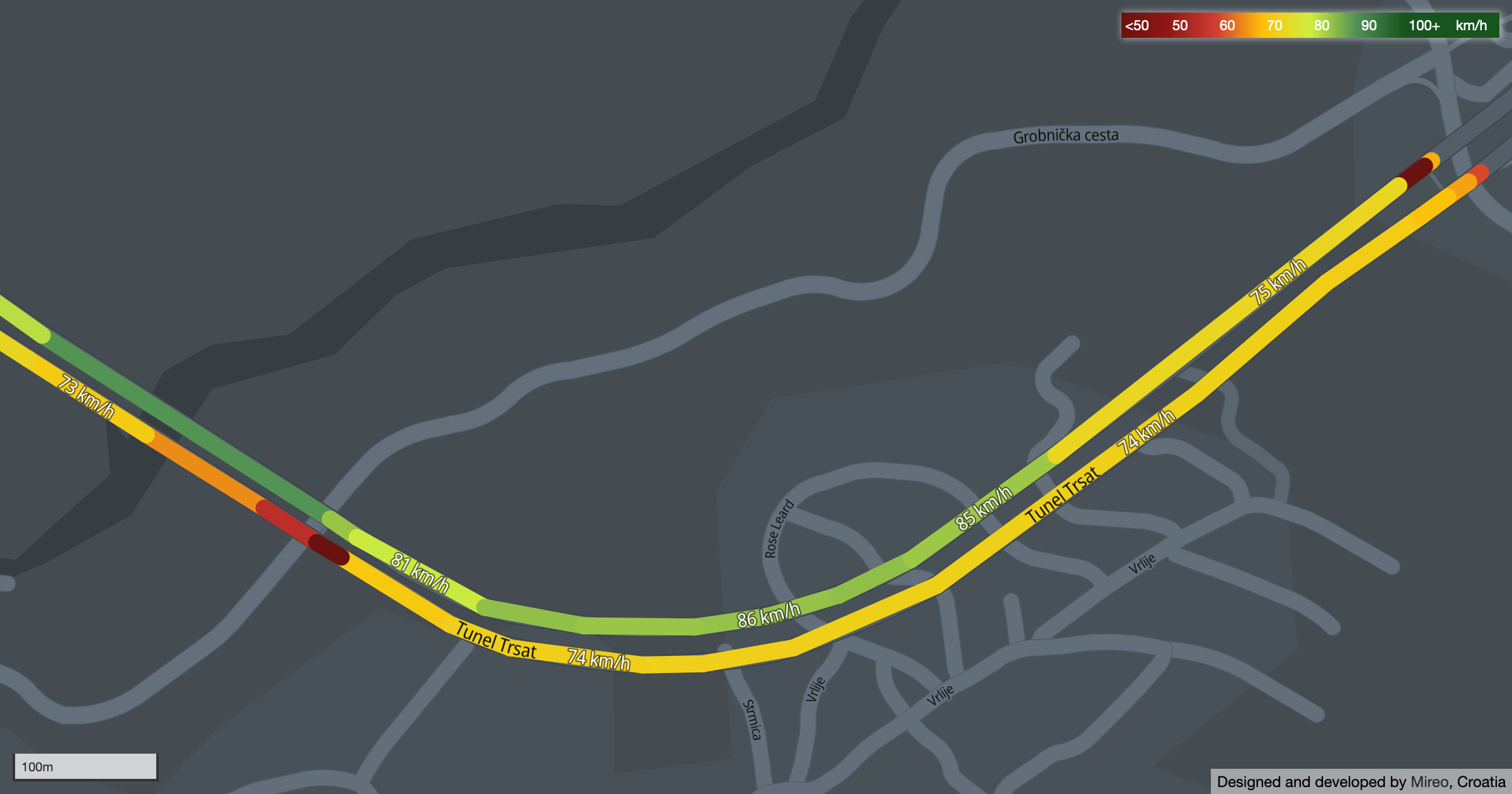 Average travel speed in Trsat tunnel
Tunnel Trsat is the first place where we witness quite diverse driving patterns between the east and west direction.
The movement is slower in the southern lane of the Trsat tunnel, and we observe the significant drop in traveling speed just before the tunnel's entry. Why?
Namely, speed police patrols are quite often situated just between the Rječina bridge and the southern entrance to the Trsat tunnel, thus influencing the drivers to lower the speed to 48 - 58 km/h. However, they tend to increase the speed immediately after passing a police patrol. Drivers from the opposite direction are not affected and drive significantly faster after exiting the tunnel - between 80-90 km/h.
The speed limit in the southern lane is only 50 km/h, but the average speed is ~75 km/h, and the speed limit in the northern lane is 70 km/h with an average traveling speed varying between 75 - 85 km/h.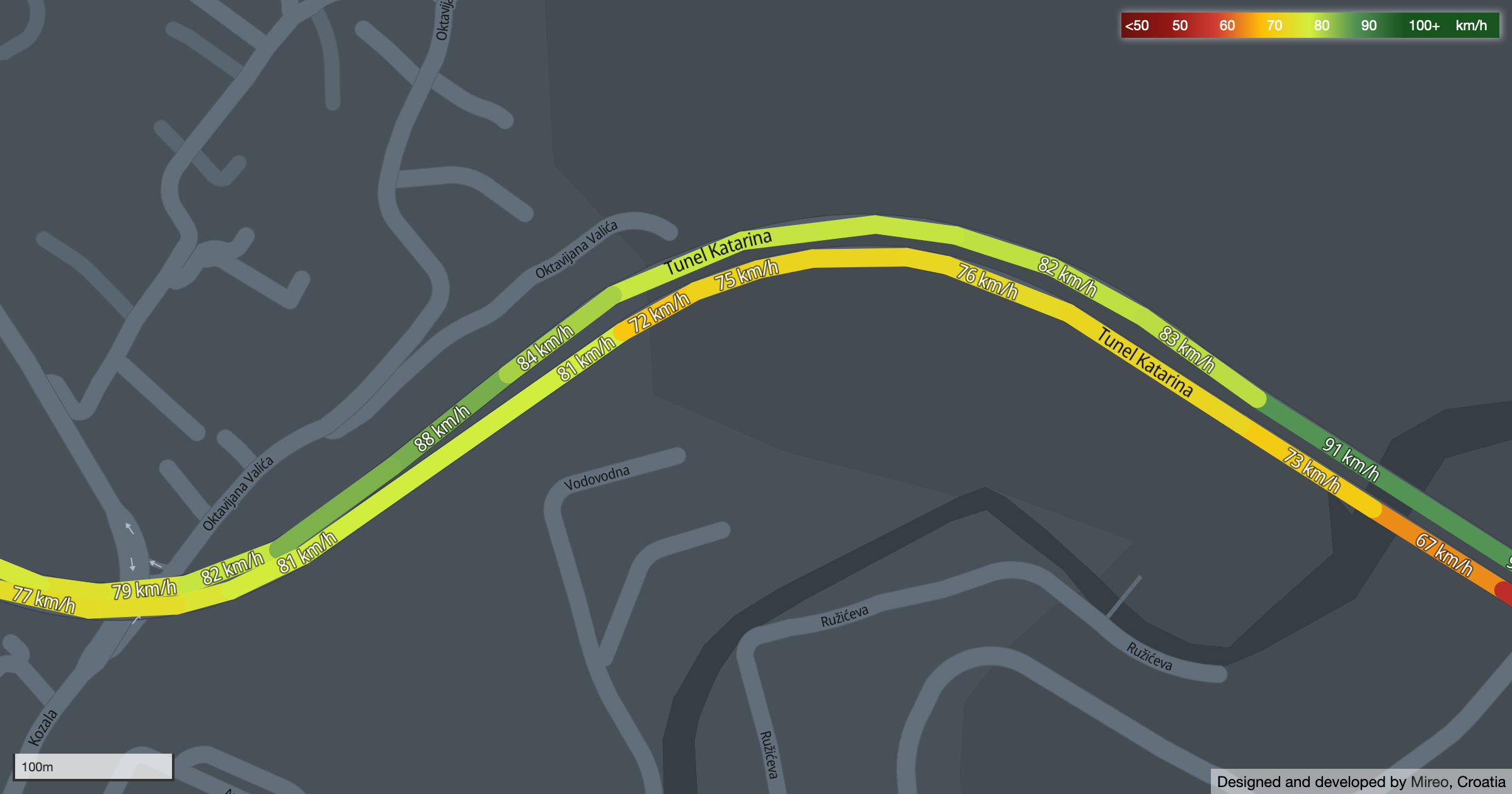 Average travel speed in Katarina tunnel
The speed limit in the Katarina tunnel is 60 km/h, but the average speed is between 75 - 85 km/h.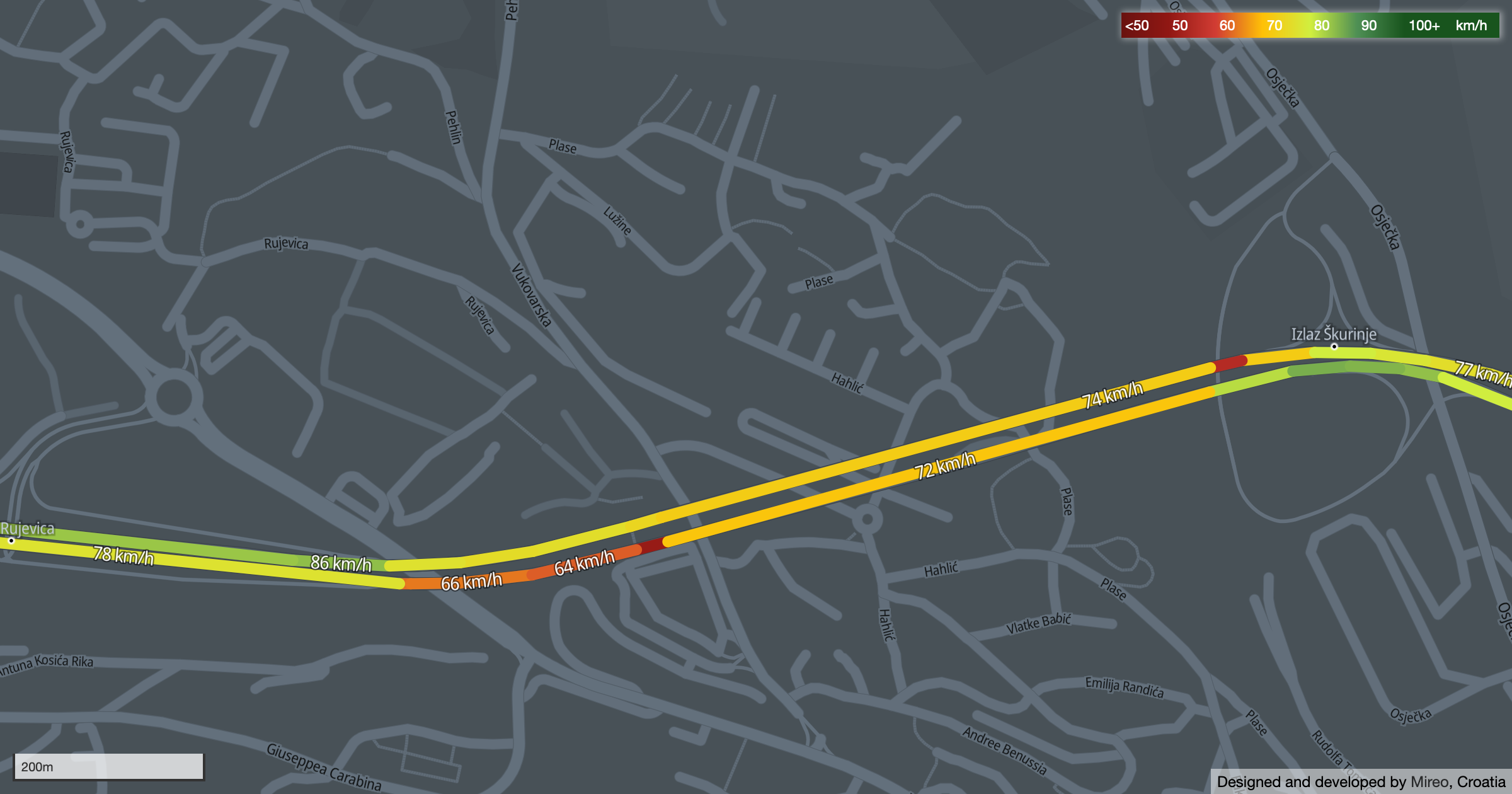 Average travel speed in Skurinje II tunnel
A fixed speed camera is placed just before the entrance to the southern lane of Škurinje II tunnel. Therefore, the traveling speed significantly drops to 52 - 65 km/h and, quite understandingly, abruptly increases to 71 km/h just after the camera.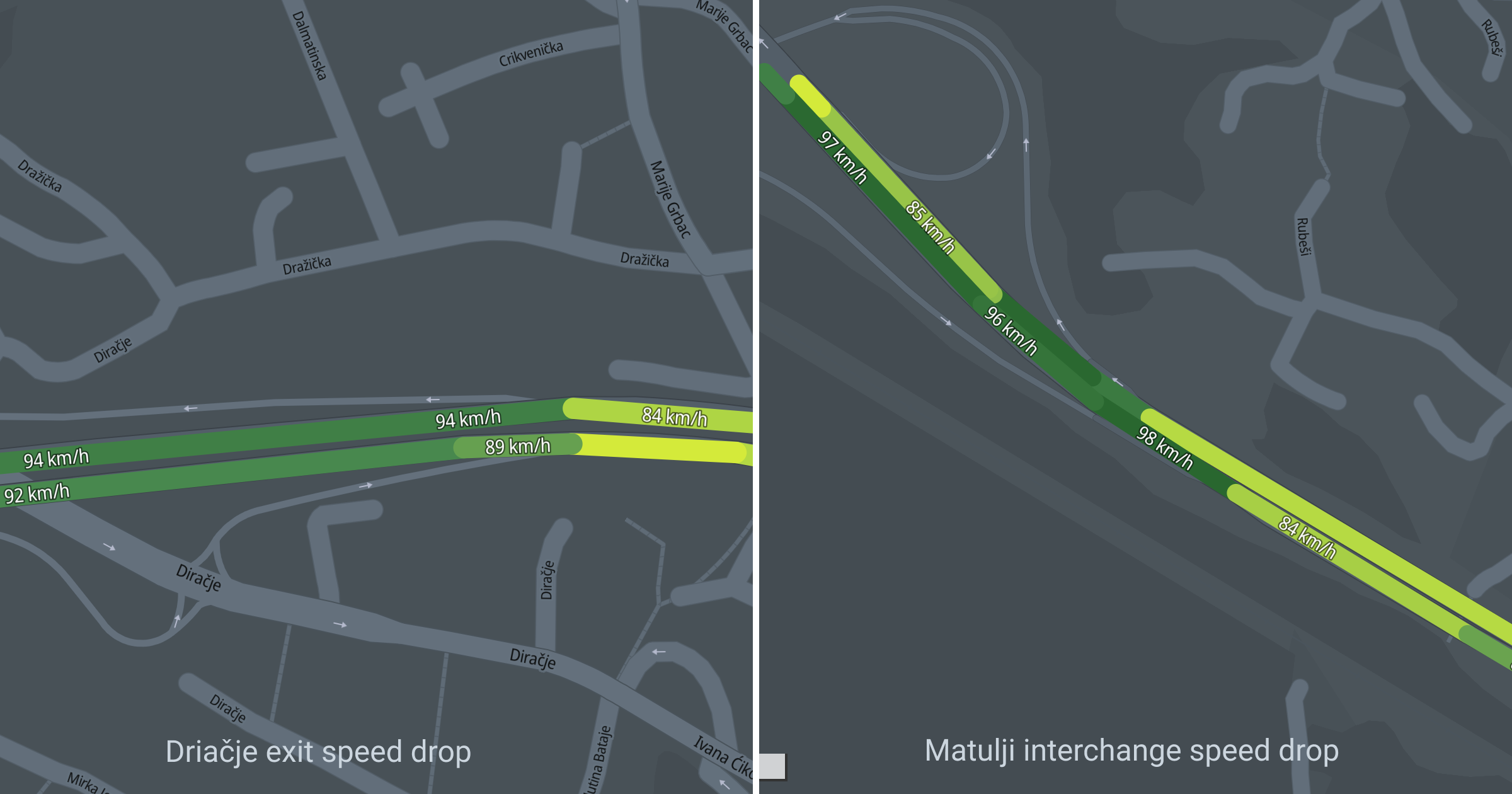 Average travel speed Matulji interchange and Diracje exit
Near the Diračje exit and Matulji interchange, we observe the effects of incoming and exiting vehicles. Cars changing traveling direction need to lower their speed, which inevitably affects nearby vehicles. Therefore we observe a 5 - 10 km/h drop in traveling speed nearby highway ramps.
Despite the fixed speed camera located just before the Diračje Rijeka West exit (direction east), a significant drop in traveling speed isn't observed. Most probably, drivers find the 90 km/h speed limit to be somewhat reasonably set, and the speed camera doesn't affect their traveling.
The average speed doesn't tell you enough? Take a look at the speed distribution.
Even though 70 km/h is the most common speed limit, on one-half of the A7 segment between Orehovica and Matulje interchanges, drivers drive at speeds between 70 and 90 km/h.
Ironically, drivers equally often drive below 70 km/h and above 100 km/h- approximately every sixth kilometer.
on 16% of the bypass, people drive below 70 km/h
on 50% of the bypass, people drive between 70 - 90 km/h
on 70% of the bypass, people drive between 70 - 100 km/h
on 16% of the bypass, people drive above 100 km/h
Rijeka bypass travel speed distribution