Europe
Record low traffic deaths in 2020 in Europe
Opposite to the USA, road deaths in Europe fell by 17% in 2020, compared to 2019, show the preliminary findings presented at European Commission Road Safety Results Conference. That's 18,000 road deaths in 2020, or 4,000 less than in 2019.
For reference, with 4,2 road traffic deaths per 100,000 population, European roads are by far the safest in the world (the global death rate is 18 per 100,000), while the most dangerous roads are in Africa and South-East Asia.
The most substantial decline in road fatalities occurred in the worst-hit countries - Italy, France, Hungary, Belgium, Denmark - above 20% compared to 2019. However, Estonia, Ireland, Latvia, Luxembourg, and Finland recorded an increase in fatalities, presumably due to fluctuating nature observed in smaller countries.
Let's observe Italy as one of the countries hit hardest by COVID-19:
Italy - casualties down by 29%, mileage by 23% in 2020
Italian National Institute of Statistics (ISTAT) preliminary data show a 29% reduction in traffic-related deaths or injuries from January to September 2020.
Focusing strictly on the lockdown period, the number of traffic accidents in Italy (including those with only vehicle damage) was down by 50% in March and 80% in April. Traffic in April plummeted by 80%.
Using SpaceTime Roadway Analytics as a tool, we've analyzed the changes in vehicles' travel patterns before and during the lockdown in Italy. We analyzed the anonymized raw GPS data collected from the onboard installed GPS devices from 500,000+ private Italian cars during the first three months of 2019 and 2020.
This comprehensive analysis of the effect of COVID-19 on mobility in Italy is available in the eBook format downloadable here: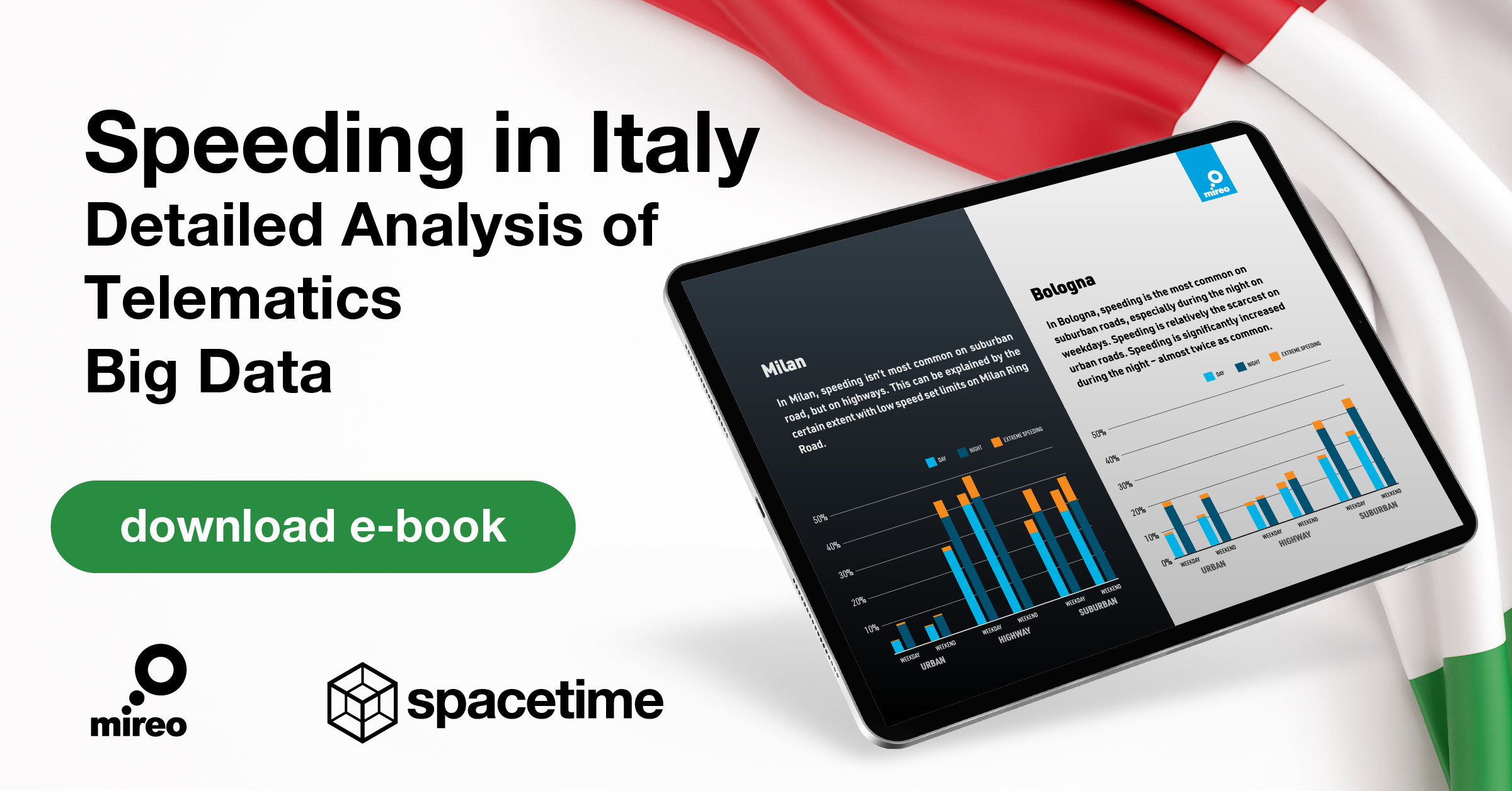 Our analysis showed a 3.5 fold decrease in average daily mileage traveled during the lockdown (36km vs. 10km daily mileage). The percentage of everyday circulating vehicles plummeted from 80% to well below 50%.
The lower traffic volume had a tremendous impact on the traffic. For example, during the morning rush hours in Milan, drivers would typically spend 74% of their time driving below 30 km/h, compared to 59% of the time during the lockdown.
The analysis showed a striking speeding increase during the lockdown. Typically, out of the average yearly traveled 10,000 km, drivers would travel 1,500 km in speeding. But during the lockdown, the percentage of speeding mileage rose to 26 %, translating into 2,600 km yearly, or 1,000 km more than usual!
Despite the surge in speeding during the lowest ever traffic in Italy, the traffic accidents plummeted!